Teresa Yannone
Program Director and Lead Instructor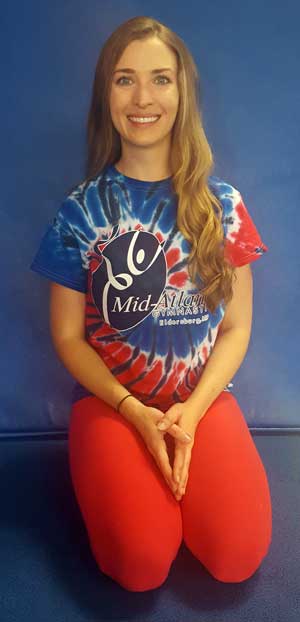 Teresa started at Mid-Atlantic Gymnastics Center (MAGC) at the age of five when she enrolled in the Tenderfoot class. Since her first day of class back in 1992, she has yet to leave the gym. Teresa progressed through her classes and became an instructor assistant to the original owners and founders, Richard Martin and Lynn Perrot, at the age of 12. She continued as an instructor through high school, college and even after she graduated from Towson University. During her time as an instructor, she has led and coached children of all ages ranging from 20 months to 16 years.
In July of 2016, Teresa became the sole owner of MAGC following the retirement of the founder and long-time instructor, Richard Martin. At that time, the gym was to be closed and no future classes were to be held. MAGC had been in the Eldersburg community for 35 years, and Teresa did not want the families and children of her community to lose such an amazing place. She is a strong believer in developing confidence, coordination and teamwork, through structured, yet recreational, gymnastics. Teresa's mission is to continue the legacy of the original founders and to keep MAGC a fun, exciting, and safe place to learn and to practice gymnastics. She is committed to hiring local teenagers to be members of her team.
Teresa was born and raised in Eldersburg. She attended the neighboring Century High School where she participated on the track and field team. Teresa competed all four years at the state championships, won a first place state title in the long jump and shared several other state titles in her four year career with relay teams and triple jump. She later attended Towson University where she was a four year member of their Division 1 Track & Field team. At Towson, she majored in functional biology with a minor in chemistry. While attending Towson, she also completed her pre-dental program in hopes of pursuing a career in dentistry following graduation. After Towson, in continued pursuit of one of her passions (gymnastics is first of course!), she completed the Registered Dental Hygienist License program at CCBC.
In addition to her work at MAGC, she works as a dental hygienist in the local community. Through her professional pursuits, Teresa displays her passion for giving back to her community. At MAGC and through gymnastics, she is dedicated to helping children through developing overall well-being. Through her dental practice, she assists people of all ages develop healthier habits through dentistry.
The Founders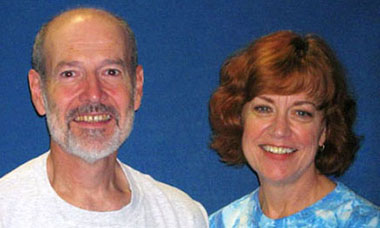 Richard Martin was the 1989-93 USGF State Director of Boys Gymnastics in Maryland. He was co-founder and co-artistic director of the Mu-sawwir Gymnastic Dance Ensemble, directing and performing with them for the athletes of the 1980 Winter Olympics in Lake Placid, NY and touring with the group throughout the US and Switzerland. Richard has three times been a guest instructor at the United States Olympic Training Center in Colorado Springs, CO. and has been involved with the Mid-Atlantic Gymnas-tics Center, providing excellent gymnastics train-ing for Maryland area students since 1981.
Lynn Perrott was a nationally rated gymnastics judge through the Brevet level. Lynn joined the Musawwir Gymnastic Dance Ensemble in 1974 and later became co-artistic director in 1979.